The computing department at the university of Dundee wrote a little article about after winning 3rd place at the Scottish young software engineer of the year awards.
Applied Computing Graduate secures 3rd Place in 'Young Software Engineer of the Year' Awards

Shortly after graduating this year with a BSc in Applied Computing, Stewart Taylor was awarded 3rd place at the ScotlandIS 'Young Software Engineer of the Year' awards.

ScotlandIS is a trade body for the ICT sector that represents approximately 200 technology and software related businesses in Scotland. The awards are allocated to computer science and software engineering students in Scotland, who completed exceptional undergraduate software projects.

The University of Dundee nominated Stewart for his strong final year project. His project provided a visual demonstration of path planning which will be used by the Space Systems Research Group to showcase their work for outreach. Stewart's portfolio of work includes a number of mobile phone applications, and games that he developed and published for the Xbox indie marketplace. We are delighted to hear the news of his success, particularly as Stewart was competing against nominees from 12 other universities.

Stewart gained a number of accolades whilst studying. As part of a team in 2012, he received 1st place in the 'Yahoo! Hack Day Dundee' competition, and he was awarded a medal for top student in Applied Computing Level 3. Stewart also recently participated in the ESA App Camp 2013, as one of 20 selected participants from across Europe. His undeniable academic success has led to a new and exciting career as a Software Engineer for 'LoopUp', a teleconferencing start-up based in San Francisco. His parents collected his award on his behalf as he was en route to his new life in North America.
http://www.computing.dundee.ac.uk/newsandevents/newsdetail.asp?1044
Winning the award got me this nice little trophy and a very generous cash prize. I could not attend the event however as it was taking place while I was actually on the plane to San Francisco.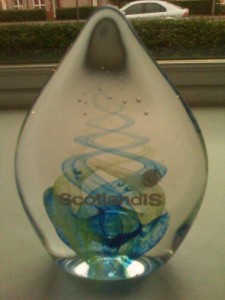 http://www.scotlandis.com/news/stories/exceptional-students-lift-software-awards